Ravenscroft Historical Estate
Montecito, California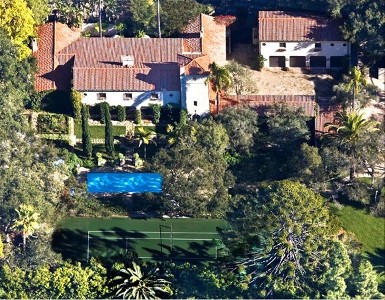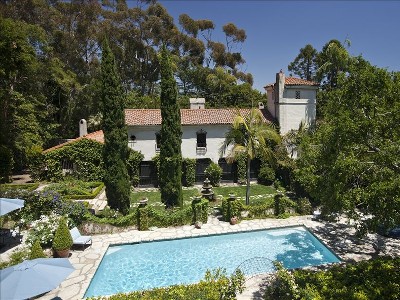 Historical & Romantic Gated Montecito Estate with Pool, Spa and Tennis Court Adjacent to the 37 Acre Lotus Land with intimate privacy 2 miles to beach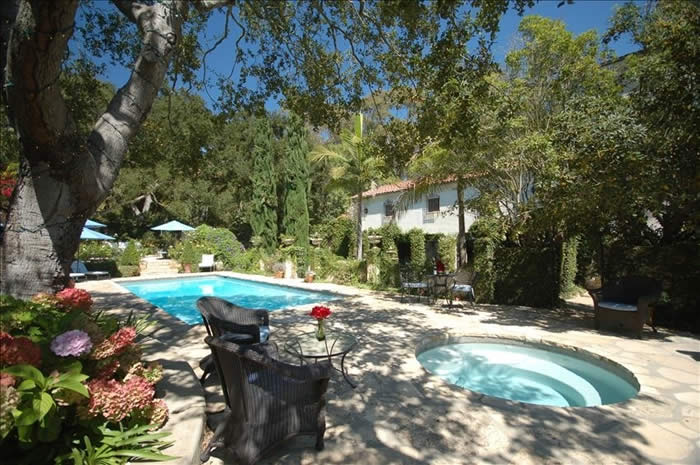 Magical and peaceful setting in one of the most beautiful locations in the world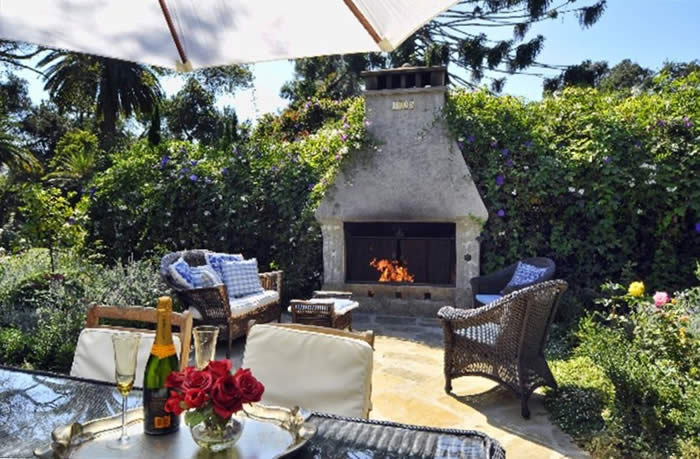 Loggia to enjoy the majestic home and grounds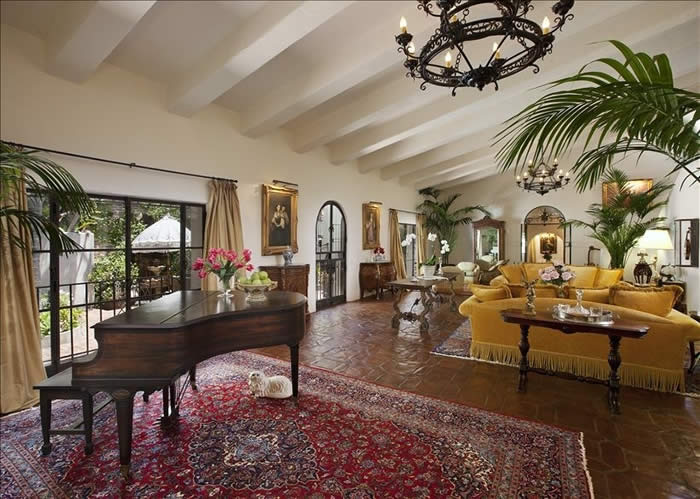 52' Long Living Room designed from London Stage w/ Grand Piano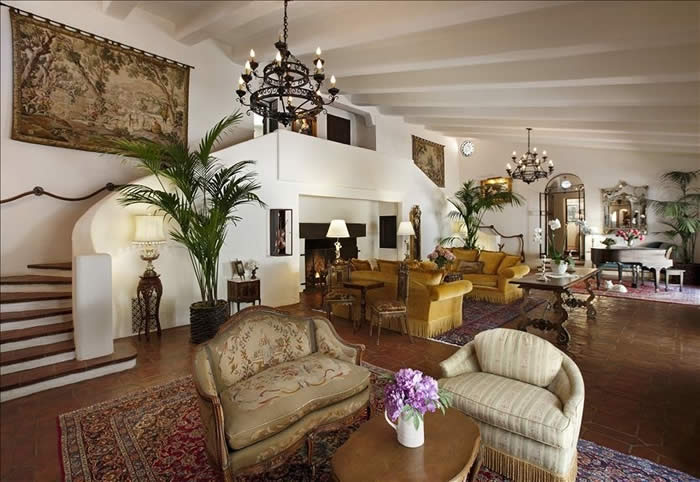 Be one of the few to be to enjoy Ravenscroft, a rare and historical Estate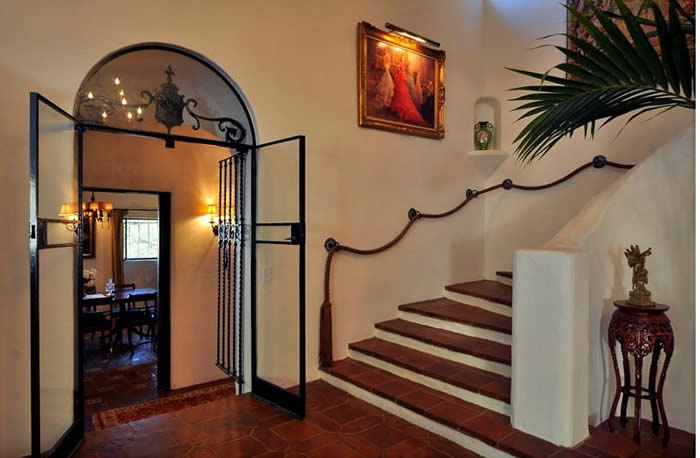 Famously published Ravenscroft: the best of George Washington Smith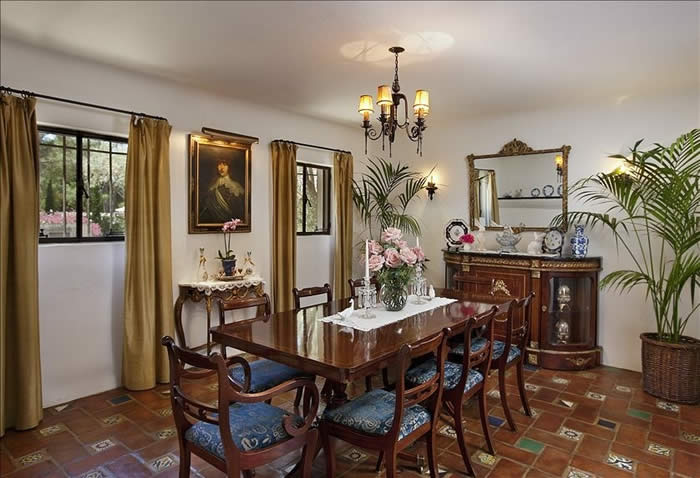 Formal dining room off of the kitchen and 1 of 3 dining areas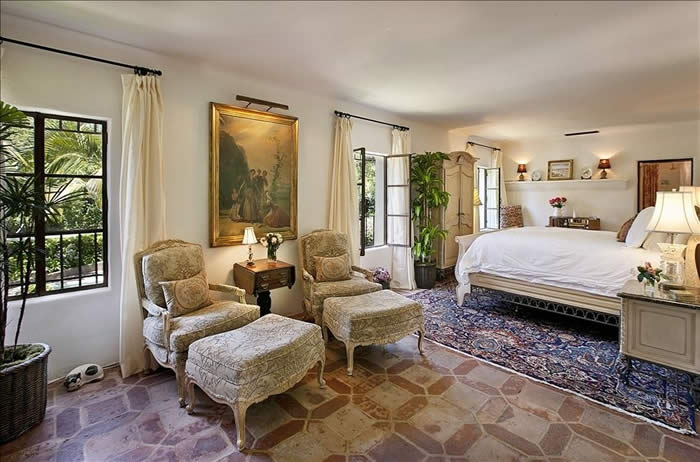 Master Suite w/his & her bathrooms and sitting room w/fireplace views of pool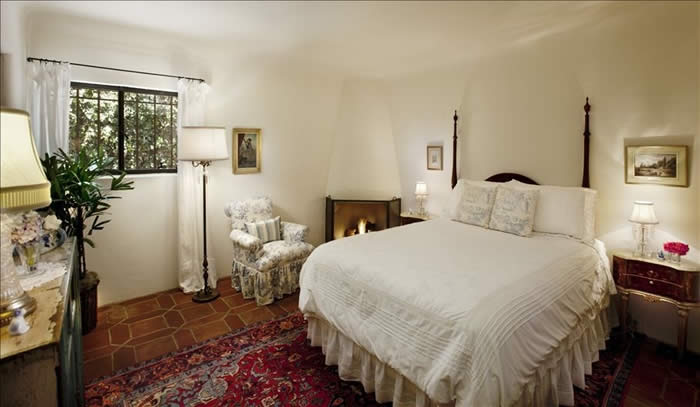 7 bedrooms and 8 fireplaces on the Estate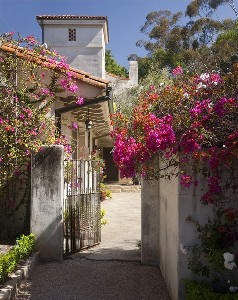 Be one of the few to enjoy this rare historical Estate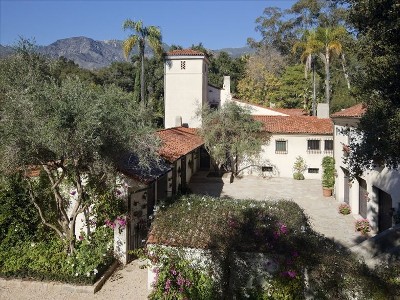 Courtyard of hand tooled stone work - fabulous for candle lit dining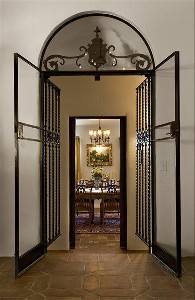 Trimmed with historical hand wrought iron & GW Smith designed tile throughout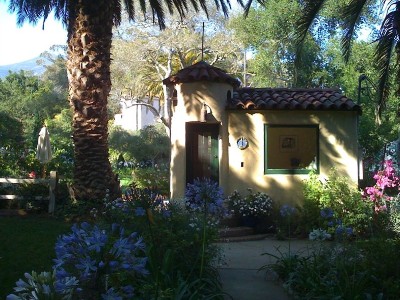 Historical Abigail cottage and large expansive private gated lawns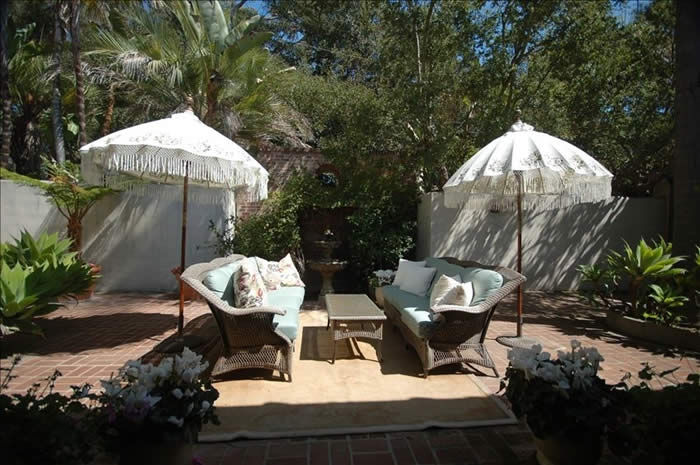 Expansive property with almost 2 acres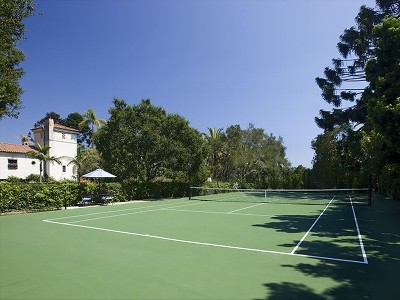 Private regulation size north/south tennis court
Location: Montecito, Santa Barbara Area, Central Coast, California, USA (< 2 miles to Beach & < 10 miles to downtown Santa Barbara)
Accommodations: Estate, 7 Bedrooms + Other (See Description), 7.5 Baths (Sleeps 12
Romantic, historic George Washington Smith gated and private 2 acre Estate with pool, spa, tennis court is located in the heart of Montecito, a seaside village that has seduced moguls, magnates and movie stars for over a hundred years.

Ravenscroft pays homage to the grandeur of its natural setting with a timeless elegance that is truly captivating, for it is not only seen with the eye, but also felt with the heart.

The Estate is located in one of the most prestigious areas in Montecito, amongst the large and old grand estates of its same historic pedigree, directly adjacent the 34 acre Lotus Land, providing a private and serene setting, while being less than 2 miles to the beach.

It has been immaculately restored and renovated to meet the exacting needs of modern life while staying true to the purity of its renowned architect George Washington Smith.

Smith is synonymous with classic Santa Barbara architecture and in 1922 he designed Ravenscroft, a magical and timeless work of art that has been held in high esteem and published often as a local architectural marvel. It is one of a handful, and arguably the most well preserved, of original classically designed Santa Barbara Estates still in existence. The Four Seasons Biltmore was built by the same architect with the same design and materials, as was the Ogilvy house which is just a few doors down and Casa Del Hererro.

Within this classic Estate are sweeping lawns, colorful gardens, intimate outdoor terraces and majestic gates. The main residence is trimmed with elegant hand tooled wrought iron gates, doors and windows and provides 4 bedrooms and 4 1/2 baths. In addition, the sitting room off the master suite has a day bed with trundle and fireplace. The living room is 52 feet long and offers a large roaring fireplace and baby grand piano with wrought iron doors and windows to the interior courtyard, dining room, bedroom wing and library/office. In the office/library are a fireplace, desk and secret door with passage to the wine tasting cellar with fireplace and tasting room.

The guest house features a living room, 2 bedrooms, 2 full baths and charming kitchen. The 'Abigail Cottage' is a restored charming 1 BR/1BA guest cottage surrounded by fruit orchard, expansive lawns and hen house.

The sparkling pool, spa and north/south tennis court complete the magnificent estate. Also, within this private and magical Estate are a Garden Lath house and Japanese Green House that were built in 1934.

The work out room offers 2 step machines, free weights, univeral machines and a ping pong table. There are also 3 bikes available.

Staying at Ravenscroft is like stepping back in time, into Santa Barbara's history and you can just imagine Charlie Chaplin, Cary Grant or Audrey Hepburn around the corner. There is no other property available like this one in Santa Barbara.

HISTORICAL HIGHLIGHTS: Published "California Romantica" by author Diane Keaton
- "You discovered Ravenscroft, ONE OF OUR FAVORITE HOMES in Montecito. Do you know the history of the design of the living room and its enormous fireplace? Yes, it was designed so that the horses could come in and get warmed by the fire. In particular, Mrs. Ravencroft's favorite horse, Jack." "Did you know the design of the living room was taken from a popular London stage production of the era. According to David Myrick's account in his two-volume "Montecito And Santa Barbara," Marguerite (Peggy) Doe Courtney, who later married Henry Ravenscroft – hence the name of the home – asked Smith to design a living room that duplicated the stage set of the play, which is why the living room is 52 feet long."
- "That says a lot about George Washington Smith: that he was a game guy; that he took on the owners' ideas and wasn't afraid of them and didn't feel that it was encroaching on his genius. It's an act of generosity on his part and, because of that, his work is probably the most prevalent in this book and it's the most unusual and most diverse. He wasn't afraid of a new idea. THAT WAS ONE OF MY FAVORITE HOMES."
- "Did you happen to see the lathe house on the Ravenscroft property that, according to Harry Kolb, was where the first commercially grown orchids on the Central Coast were grown? I love that I saw it [in its decayed state] and caught it right before they began the restoration. I'm a preservationist, as you know, and I feel the beauty shines forth no matter what state these homes are in. You mustn't be afraid of them. When you see the beauty OF THIS PARTICULAR HOME, it's so astonishing. I just fell in love with it."

Vacation Rental Features
Amenities

Gas Fireplace : Three bedrooms have their own gas fireplace, along with the sitting area off the master and the large fireplace in the living room for a total of 4 fireplaces in the main house. There is a 5th fireplace in the main house, the wine tasting room, that is wood burning.
Wood Fireplace : There is an outdoor fireplace and also a wood fireplace in the wine tassting room. Firewood is provided
Washing Machine
Clothes Dryer
Air-Conditioning
Linens Provided

Beds

Twin/ Single : There is a twin bed in the Abigail Cottage. There is also a day bed with trundle bed in the sitting room off the master bedroom. This sitting room also have a fireplace.
Queen : 1 of the Queen beds are European Queen which is slightly smaller than US Queen
King

Entertainment

Satellite Or Cable : There are 4 TV's in the Estate - 1 in the TV Room, 1 in the Garden Room, 1 in the Master Bedroom and 1 in the Kitchen
Video Library : DVD's
Hot Tub
Private Pool
Ping Pong Table
DVD

Kitchen

Refrigerator
Ice Maker
Dish Washer
Cooking Utensils
Full Kitchen
Microwave
Catering Available

Outdoor Features

Gas/Electric BBQ Grill
Deck/Patio

View/Location

Mountain View : The home is located within 3 miles to the Beach and also has mountain views

Communications

Wireless Broadband : with security code
Telephone

Other Amenities

Ravenscroft also offers a work out room with 2 step machines, free weights and weight machines that include a universal, bench press and smith machine. In this room is also ping pong table. There there are 3 bikes available., tennis rackets, floating matts for the pool. There is also a baby grand piano. Daily maid service is available for weekly stays at the rate of $495 for the week.

Suitability

Children Welcome
Non Smoking Only

Activities

Swimming
Sailing
Surfing
Cycling
Tennis
Wind-Surfing
Snorkeling/Diving
Golf
Kayaking
Fishing
Parasailing
Mountain Biking
Basketball Court
Hiking
Restaurants
Museums
Cinemas
Live Theater
Health/Beauty Spa
Zoo
Theme Parks
Antiquing
Shelling
Fitness Center
Sight Seeing
Boating
Horseback Riding
Shopping

Other Activities

- The Beach is less than 5 miles away. - Downtown Santa Barbara is 5 miles away. - Santa Ynez wineries are 45 miles away for which there are several services that provide day trips from limos to jeeps - Lotus Land is steps away - Casa De Herrera is within 2 miles
Rate Details (In US Dollars)
High Season ...$12,995/week to $14,995/week (Jun, Jul, Aug to mid Sept.) Mid Season ... $8,995/week to $11,995/week Low Season ... $6,995/week to $7,995/week Nightly and Monthly Rates Inquire 10% Transient Occupancy Tax for stays 31 days. $550/week cleaning fee $2,500 Refundable Damage Security Deposit;returned within 2 weeks of check out Check preferred.
Note: Until confirmed, rates are subject to change without notice.

Dates available:Year Round

Fabulous Experience!
Guest: South Bay family (Manhattan Beach, CA)
Date of Stay: 04/08/12 Review Submitted: 04/21/12
We had a fabulous week away at Ravenscroft over Easter. We were 2 families from Los Angeles with young children. Todd and Melanie were fabulous to work with during the booking and organization phase. When we arrived on Easter Sunday afternoon, they had stocked the fridge and cupboards with the groceries we requested and also left a lovely spread of wine, cheese and cake for us. The photos on the website of course look fabulous but almost don't do this amazing and historic property justice. It is in one of the most prime Montecito locations - right next to Lotus Land (which is also a must see!). We had 2 nannys with us during the week who had great accommodations in the 2 bedroom plus living area guest cottage. The grounds are absolutely amazing and a real highlight were the fireside dinners and smores we cooked over the wood burning outdoor fireplace. A great experience and thanks to Todd and Melanie for being great to work with.
The Qunitessential Montecito Experience....Feels like the Santa Barbara Biltmore
Guest: Richard (Los Angeles, CA)
Date of Stay: 12/16/11 Review Submitted: 01/03/12
With great care, the owners have meticulously restored this beautiful 1922 G.W. Smith property, carefully maintaining the original integrity, and it feels as if you've stepped back in time. The house and grounds have a luxurious vintage feel and yet, despite the "old world grandeur", it is extremely warm and comfortable. Whether exploring the property or sitting by one of the many fireplaces, our family from young to old (4-88) loved our stay, and I would certainly recommend this property to a friend or relative.
A Vacation to aways remember!
Guest: Kristin N.
Date of Stay: 08/22/11 Review Submitted: 12/06/11
My husband and I had the privilege of staying at Ravenscroft for 10 days during our daughter's wedding this past August. The estate was magnificent and it was more than we could have dreamt of. The 1920's style of the house was wonderfully preserved in each room and in every corner of the property. You can easily see all the love and effort put into maintaining this home by Melanie and Todd. There was nothing this home lacked, and ever desire was fulfilled. My 88 year old mother was taken back in time as she explored the house and sat by the beautiful rose garden and pool every morning. The attention to detail in all the furnishings is a marvel. Family members joined us there from all corners of the country as well as from Europe and it was wonderful to be able to host them all at Ravenscroft. The outdoor patio by the pool and fireplace was the gathering spot for the family almost every evening. On the day of our daughters wedding, the large estate allowed both the bride and bridesmaids and groom and groomsmen to dress in separate areas. Our photographer was in heaven with the location. Seeing our daughter come down the grand staircase was a sight to behold and all the photos taken are our memory for the ages! The grounds and house were backdrops right out of a fairytale. We cannot say enough about our stay and hope to be back very soon.
Spectacular & Luxurious Rental
Guest: Tiffani (San Rafael)
Date of Stay: 07/30/11 Review Submitted: 08/10/11
Exceeded all our expectations! Perfect for a reunion or special occasion. Convenient location to hiking and biking. Had every amenity, and many special touches. Owners were thoughtful and responsive to every request. We all felt very priviledged to stay at this historic estate.
A magical piece of history
Guest: Cathy (Pleasanton, CA)
Date of Stay: 07/19/10 Review Submitted: 10/12/10
Three generations of our family stayed in this magnificent residence in July, and it was one of our most memorable vacations yet. The property is truly magical, just as Melanie described it, with spectacular gardens and a home that has been restored to its original grandeur in all the right ways. Melanie & Todd's pride of ownership and attention to detail is apparent everywhere you look. Particular focus has been given to maintaining the original integrity of the home, while still making it functional and beautifully updated where needed. The outdoor fireplace was our favorite gathering spot each evening, but there were also many other wonderful places to sit and enjoy the ambiance of our surroundings. We appreciated the special touches upon our arrival as well - fresh flowers in every room, the beer and soda in the refrigerator, and the wine and cheese platter. All reminders that we were about to experience a memorable week, and we certainly did. Oh, and the fresh eggs each morning from the delightful chickens were an added bonus! Just can't say enough about this exquisite property. We hope to return again one day soon.
Pleasantly Happy
Guest: Pleasantly Happy (Seattle)
Date of Stay: 06/01/10 Review Submitted: 06/12/10
We come to Santa Barbara every year to enjoy southern california and have previewed most of the properties available. There is no other property like this one - period! The pictures do not do it justice. The history of the property permeates throughout, the architecture and gardens deserve the published acclaim that it has earned. This is not just another big california house, this is a truly special and very rare piece of art. We were in awe upon arrival, from the magical gates, to expansive lawns and sitting areas. And the inside of the home is sprinkled with exquisite art and antique furnishings that add to its magic. At night time we sat outside next to the fireplace and enjoyed the peaceful surroundings. During the sunny days we loved the pool and tennis court with this unbelievable garden room that opens up to them all. For dinners there are too many locations to describe and to select from, but all of them were priceless memories. This is not just another large commercial property - this house has spirit. Read its history. We highly recommend it to any one and given its price, for what the property offers - it is a bargain compared to properties we have stayed in world wide and inparticular in Santa Barbara. We will be returning as long is it is available.
Exceeded our Families Expectattions
Guest: Exceeded Expectations 2010 (Tucson, Arizona)
Date of Stay: 06/06/10 Review Submitted: 06/12/10
Just wanted to say that Ravenscroft was as nice as Melanie said it would be. It exceeded all of our family's expectations. We all had a very nice reunion, and yes, we went to the beach and to the vineyards, but mostly we enjoyed the house and the grounds - the pool, the spa, the tennis court, the fire place, and all the very nice places to sit and talk. In addition, we were all impressed with the nice touches that were left for us - the fresh flowers in various rooms, the kitchen with "supplies" like the beer and soda, spices, etc, tennis balls, and probably many other things that don't come to mind right now. Even the chickens added a little extra that we were not expecting. What impressed me the most was the way the home combined the new with the old. It all fit together very very nicely.
Address: Fantastic Villas
1482 East Valley Road #325
Santa Barbara, CA 93108
Phone: 805 448-6976
E-mail: suzy@fantasticvillas.com