HOME ALL RENTALS CONCIERGE FUN THINGS TO DO PROPERTY MANAGEMENT FAQs ABOUT US CONTACT
FUN THINGS TO DO
IN SANTA BARBARA
June in Santa Barbara
We can't think of a better time to visit. From outdoor adventures to vibrant festivals, here's your guide to June events in Santa Barbara.
Photo Credit: Santa Barbara Adventure Company
Who's ready for summer in Santa Barbara? Bursting with outdoor adventure and vibrant festivals, featuring the best of Santa Barbara wine, food, music and entertainment, we can't think of a better time to visit.
Here's your guide to can't-miss June events in Santa Barbara:
This Month's Highlights
Ocean Kayaking
2017 Summer Music Festival

SB Wine and Food Festival
Summer Solstice Celebration
Sunday Polo
The long summer days of June make for the perfect time to explore the Channel Islands National Park with Santa Barbara Adventure Company. Wake up early and don't waste a second on the untouched landscape of the islands. Morning ferries leave at 8am, making sure you'll have plenty of time to kayak the sea caves, hike to Cavern Point and snorkel the turquoise marine waters. If you're wanting to spend more than a day, and further grow your ocean kayaking skills, camping on the islands is a once-in-a-lifetime opportunity to sleep under the stars and will allow for an early departure for the Ultimate Sea Cave Kayak Tour. During this tour, you'll have the opportunity to explore Potato Harbor, a less visited and more rugged area of the Park that allows for a truly breathtaking and memorable experience.
You're in luck, by using the promo code, ISLANDTIME2, you'll save $10 when you book your Sea Cave Kayaking tour 2 weeks in advance.
Let the sounds of classical music play you all the way to Santa Barbara this June. Now in its milestone year, Music Academy of the West is celebrating the 70th Anniversary of its annual Summer Festival. Beginning on June 12th, this summer-long celebration (ending August 5th) is filled with dazzling concerts and master classes, totaling over 200 events and 10 world premieres. Featuring six different series, Academy Festival Orchestra, Picnic Concert Series, Festival Artists Series, Orchestra Plus, Vocal Masterclass and Solo Piano Masterclass, Music Academy of the West's Summer Festival is the largest music event in Santa Barbara's history and one you surely don't want to miss.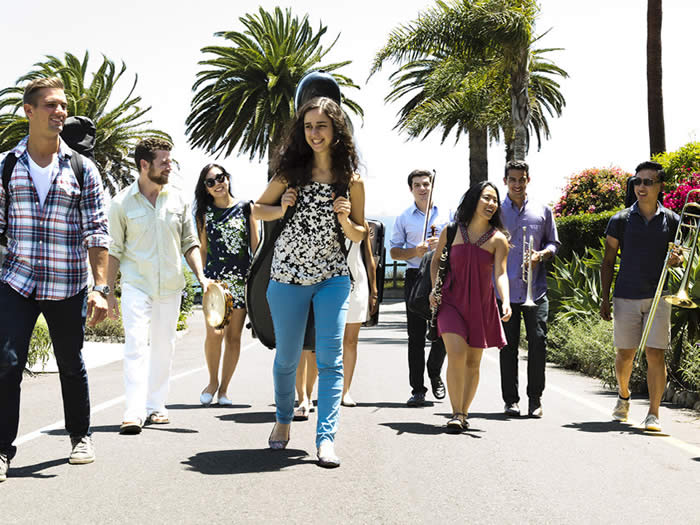 To start the harmonic occasion, we'd recommend enjoying a picnic in the beautiful atmosphere of the Academy's Miraflores campus, before entering Hahn Hall for a magical evening featuring Takács Quartet, the first event of the Picnic Concert Series. Bringing the family? No problem. Kids ages 1-17 receive free admission to every Music Academy event with a ticketed adult. Just be sure to order online, in person or by phone.
Raise your glass and cheers to the 30th Annual Santa Barbara Wine and Food Festival. Don't be fooled by the name change, this is still the same delicious wine-centric festival that returns each year to the Santa Barbara Museum of Natural History. With its growing popularity as a prominent wine festival in Santa Barbara, local food has become a staple in this event and sparked a refresh in the event's name for its 30th celebration.

Held each year under a grove of oak trees, this must-attend festival showcases the best of Santa Barbara County's viticultural and culinary scenes, with some 70 participating wineries and more than two dozen food vendors. This year sees the return of Sparkling Way (an alley of local sparkling wines) and the VIP Redwood Lounge. Cheers!
The 43rd Annual Summer Solstice Celebration kicks off the summer season with a brilliant explosion of creative energy on Saturday June 24th, nearest the longest day of the year. Exuberantly decorated non-motorized floats, 1,000 imaginatively costumed participants, bands, dance, and drum ensembles parade up State Street from the waterfront to Alameda Park, where the party continues with more music, food, and arts-and-crafts booths. Not only is Summer Solstice an over-the-top fun-fest, it's the largest arts event in Santa Barbara County, drawing 100,000 spectators.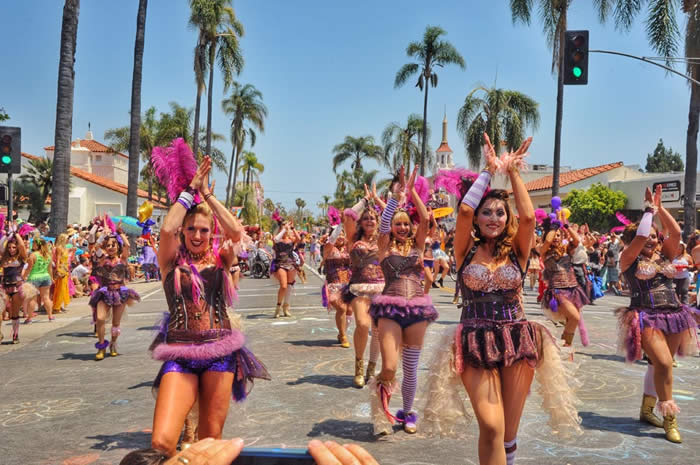 Summer Solstice Parade along State Street. Photo Credit: Danielle Methmann
After spending a few days along the beaches of Santa Barbara, get dressed in your most colorful sundresses and espadrilles, seersucker suits and boat shoes, to spend a day at the polo fields. If there's ever an occasion to wear your largest summer hat, it's Sunday Polo at the Santa Barbara Polo & Racquet Club! Each Sunday during the month of June (and all summer long), head to the polo fields for a day of exhilarating competition at one of the most prestigious equestrian venues on the West Coast. Nestled between the Pacific Coast Ocean and the Southern California foothills, watch the heart pumping action of a Polo match, as you socialize under the sunshine. Enjoy the time old tradition of the Divot Stomp, just like in the movies, as you get to walk onto the field during half-time and replace the divots put into the grass by the horses' hooves.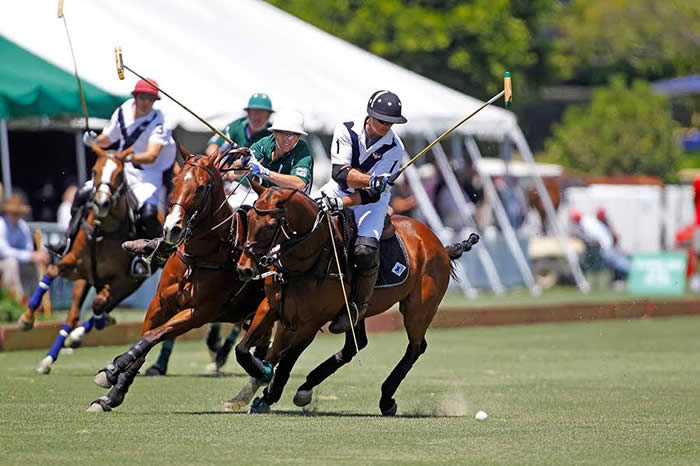 New this season, stay after the match for the "Overtime Party," a social after-party beginning immediately following the trophy presentation in the main clubhouse and on the field, where you'll enjoy dancing and live entertainment.

Featured June Events
5 June, 2017
Time: 7:00pm - 12:00am
On Monday, June 5th, experience one of history's "must-see," heart-throbbing dramas, Dead Man Walking on The Granada Theatre's state-of-the-art digital cinema system! Drawn from the film series that touch the soul and capture the best…
Learn More
View Website
10 June, 2017
Time: 5:30pm - 12:00am
Local alternative rock radio station, 92.9 KJEE announced the lineup for their 13th Annual Summer Round Up at Santa Barbara Bowl featuring alternative chart toppers Empire Of The Sun, Bishop Briggs, Judah & the Lion and local favorite, Soul…
Learn More
View Website
11 June, 2017
Time: 7:00pm - 12:00am
Always a huge crowd pleaser with their high-energy stage show, other-worldly sound, and exceptional musicianship, BOSTON prides itself on performing a totally live show, delivering an extraordinary experience that is faithful to their studio…
Learn More
View Website
23 June, 2017 - 25 June, 2017 / Recurring daily
Location: Downtown Santa Barbara
More than 1,000 participants will take part in the 2017 Parade which will begin on Saturday at 12 PM on State & Cota Streets. The festival will continue afterwards at the Alameda Park. Enjoy live music, delicious food and beverages, arts and…
Learn More
View Website
24 June, 2017
Time: 3:00pm - 6:00pm
The 2017 Santa Barbara Wine and Food Festival™ will take place along the banks of Mission Creek at the Santa Barbara Museum of Natural History. Mingle with winemakers, bakers, and chefs in the sunshine, under the oak trees. Guests will enjoy…
Learn More
View Website
Find All June Events
From the mind of Little Women playwright, Allan Knee, comes a magical romance underscored with dance, set in the 1910's in Manhattan's Lower East Side. Desperate for an escape from his solitary life as a meatpacker and dishwasher, Henry takes out a classified ad in the paper for a dance partner. When the shy Anna answers his ad, Henry's dreams of becoming a ballroom dancer are put to the test… but with each tango and foxtrot they are drawn closer together, setting off an unlikely romance. A fascinating blend of theatre and dance, Syncopation tells a story about reaching for dreams. Tickets for this can't-miss performance began at just $35.
Santa Barbara is a one-of-a-kind vacation destination, especially with the kiddos in tow. From interactive museums to endless beach days, there are countless ways to keep everyone, at every age, entertained. For families looking for the adventure of a lifetime, we've compiled a 3-day itinerary filled with activities along Santa Barbara's waterfront.
Around every corner and through each paseo, treat your eyes to a visual feast when traveling to Santa Barbara. With sparkling shorelines, Spanish-infused architecture, opulent gardens and sunsets that are worthy of being branded #nofilter, this is a destination that was made for Instagram
What is a Food Tour?
Think wine tasting but with a little less wine, a lot more food, a some fun Santa Barbara history/facts and a whole lot of fun.
You will eat and drink your way through downtown Santa Barbara without even realizing you are learning fun-filled facts. On top of all that awesomeness, you burn approximately 500 calories. How does it get any better!?
Tours are suitable for pretty much anyone who likes food and fun, you don't even have to like walking.
Looking for a private group tour or maybe some team building fun? 8 or more people and you got it. Ask about group specials.
Why Taste with Taste?!
Easy and convenient way to explore local cuisine
You dig food
You eat food
You like to be entertained, especially with food
You want to learn about Santa Barbara and don't even know you have the desire to learn things you never knew you always wanted to learn
You want to support local businesses
Fun activity for the whole family, couple or solo mission
Address: Fantastic Villas
1482 East Valley Road #325
Santa Barbara, CA 93108
Text/Talk: 805 448-6976
E-mail: suzy@fantasticvillas.com